Printers
Tape or tickets printers are available to provide hard copies of scale readings and stored records.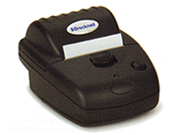 CP-130
RS-232
Windows Driver
Compact-5.25" L x 3.75" W
Configurable Baud 150-57600
9-36 Volt DC or A/C
ABS Plastic
RS-232 data input, configurable baud rate, AC/DC, compact thermal printer. Includes 1 roll of media. One year limited warranty
TM-295
TM-295 PrinterThe TM-295 printer is a terminal ticket printer with the speed and versatility to make it an economical choice for agricultural applications. Features include multiple character sizes, forward and backward paper feed and programmable page length for page sizes from 3.5 inches square to 7 by 10 inches.
Print Method: 7 pin, shuttle impact dot matrix
Print Speed: 1.9 to 2.3 lines per second
Character Buffering: 512 bytes
Interface: RS232 serial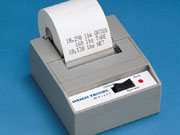 WP-233
The WP-233 dot matrix impact printer uses standard 2-1.2" adding machine paper and has 24, 32 and 40-column printing capacity.
Print Method: Impact dot matrix
Paper Roll: Table top (2-1/4" W x 2-3/4" O.D.; 0.44" I.D.) / Panel mount (2-1/4" W x 1-1/4": O.D.)
Character Buffering: 9.5 kilobytes
Character Format: 7 or 8 data bits. 1 or 2 stop bits. Even, odd or no parity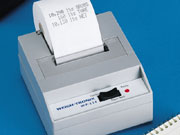 WP-234
This low priced WP-234 dot matrix impact printer is designed to meet your simple application requirements. It provides a paper copy for weighments or data collection as fast as 130 lines per minute.
Print Method: Impact dot matrix
Paper Roll: Table top (2-1/4" W x 2-3/4" O.D.; 0.44" I.D.) / Panel mount (2-1/4" W x 1-1/4": O.D.)
Print Speed: 130 lines per minute with 24 column / 110 lines per minute with 32 and 40 column
Character Format: 7 or 8 data bits. 1 or 2 stop bits. Even, odd or no parity